Aug 15, 2008 -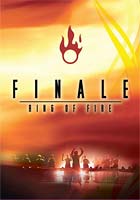 We are excited to report that a new DVD from Ring of Fire is now available! Finale represents eight years of dedication, expertise and performance excellence by the group. Witness the group's Finale concert at the Newmark Theater in Portland, Oregon, a 2 hour feast of light and sound packed into this DVD. Special guest artists the Portland Taiko perform their exciting rhythms on giant drums, then join with ROF in the world premiere of Taiko drums and handbells.
Included in this DVD are multiple special features, including the exciting performance with the Boston Pops in Symphony Hall, NBA Portland Trailblazer game national anthem performance, memorial video from NYC 9/11 performances, Hour of Power performance at the Crystal Cathedral, and a special feature broadcast on Oregon Public Broadcast TV.
Share the exciting concert video, special features and images on this feature packed DVD. Purchase your copy today. Product is in stock and available for shipment. $24.95 + S/H.