Laura Dick
Age: 15 Grade: 10th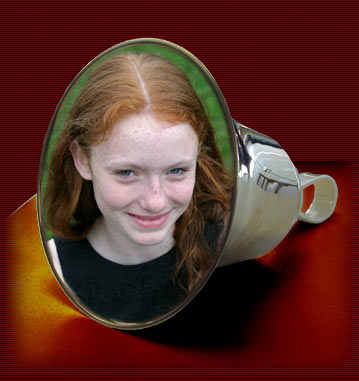 Laura's favorite foods are Italian foods, salt water taffy and cheese cake. She doesn't care what kind it is, she just LOVEs cheese cake! But she dislikes brussel sprouts, asparagus, and eggplant (YUCK!)
Laura likes to play sports such as soccer and basketball. She also enjoys swimming and shopping with her friends, or in her spare time watching some TV. On Sundays, if NASCAR racing is on, you'll find her watching to see if Jeff Gordon wins.
Some of her hobbies include playing the piano, drawing, playing sports, and bells. Her favorite class is P.E. but her least favorites are biology and math.
Currently, Laura is attending Portland Adventist Academy in Portland. Some of Laura's future goals include going to college, getting a degree in business, and starting her own business in the clothing industry.
"ROF means so much to me," Laura says, "because I can tell people about Jesus, through music. It also helps me learn responsibility and how to work with others." She also looks forwarding to going on tour to places she's never been.